James Imbai, an 8 year old's traumatic experience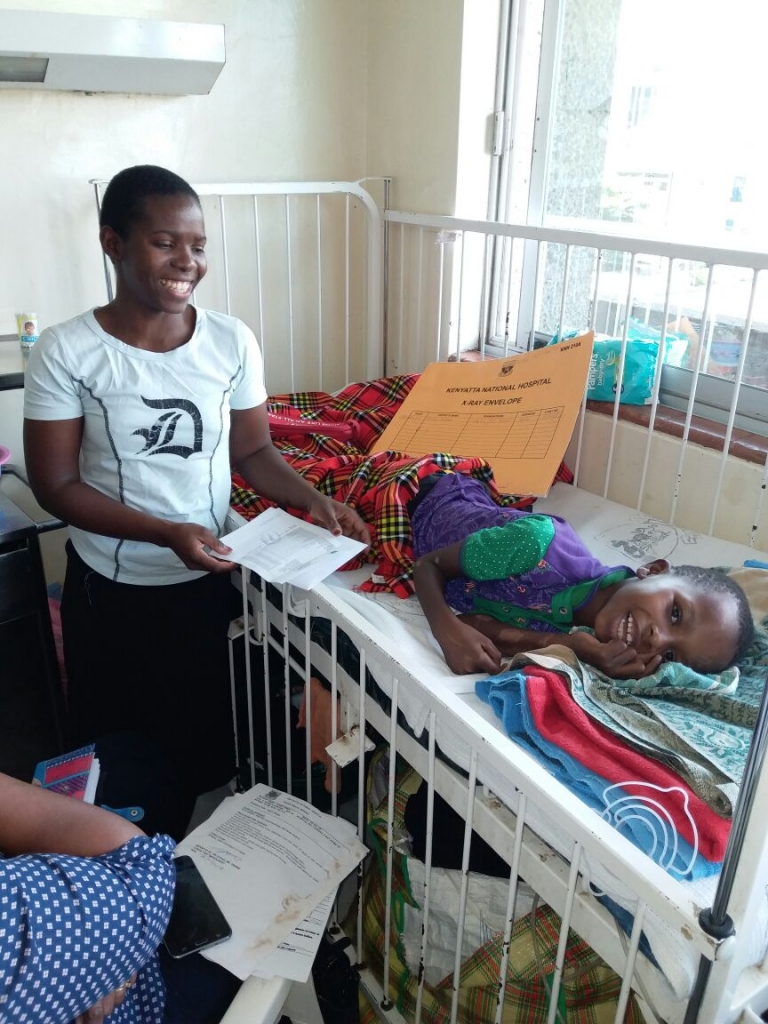 Kenya's health care system is structured in a step-wise manner so that complicated cases are referred to a higher level. Gaps in the system are filled by private and church run units. At the highest level is Kenyatta National Hospital, the oldest hospital in Kenya. It is a public hospital and is also a teaching hospital, the largest in the country. It has a bed capacity of up to 2,000 beds and attends to an annual average of 70,000 inpatients and 500,000 outpatients (Strategic Plan 2013-2018).
James Imbai is 8 years old and is a beneficiary of Eboo in Kenya Project. He has been hospitalized at Kenyatta Hospital since 22nd January 2018. The incident that left him unconscious and hospitalised happened on the 16th January 2018. On that fateful day James did not report to school because he was unwell. His mother Mary Agiza left him sleeping and reported to work. She worked then as a house cleaner washing and cleaning with an average income of about KES 6400 (Eur 50) per month. Mary is 30 years old, a class 8 school dropout after she become pregnant as a teen.
In the house that fateful 16th morning was a guest, Elizabeth a sister to Mary's exhusband and the father of James. Mary and her husband are separated since 2012. Mary received a phone call from neighbours while at work that her house had burned down. She needed to come home quickly and take her son to hospital. Neighbours report that a fire broke out in the house and when they were finally got access into the house, they found James unconsciousness under the bed. The house had been locked from the outside and they suspect James woke up was unable to go outside and so took refuge under the bed. What was the cause of the fire? Why was the door locked from outside, where is Elizabeth? These are the unanswered questions in Mary's mind as she cares for her son in hospital.
Mary reported the incident to Eboo and rushed her son James to St Mary's hospital. St Mary's Hospital is a private hospital run by the Catholic Church and is located in the outskirts of Kibera. For the 7 days he remained here James was unconsciousness. On the 22nd James was transferred to Kenyatta Hospital for specialised care (moved to a higher level). In Kenyatta he was put in the High Dependency Unit and remained unconscious for 2 weeks. He has progressively regained consciousness and with physiotherapy he can move his head, open his eyes, he hears and tries to turn towards the voice speaking. He however lies paralysed on his little bed with no movement and no speech and is on diapers. His mother is able to feed him anything liquid and so the feeding tube has been removed.
Mary has been by her son's bedside since 16th January. She has not worked and has lost her job. At Kenyatta Hospital she shares the bed with her son at night. Their only worldly possessions- some clothing donated by well-wishers are tacked under the hospital bed.
James has been discharged from hospital and has accumulated a bill of KES 126,000/Eur 1,000. The mother has called on family and friends to raise funds to settle the bill. It is 7 days since they were discharged last week and not a single shilling has been paid. James is accumulating KES 2,000 (Eur 20) for every day he is in hospital, it is proving to be an advantage for now! They have a roof over their heads, physiotherapy is ongoing, and food is provided. The only danger is if there is an outbreak of some infection such as rotavirus.
Mary and James have nowhere to go. Their house was razed to the ground and all their worldly possessions were burned up as well. James has a sister, 11year old Lucy Alivitza who was in school on the fateful day and she has moved in with her Aunt Jennifer (Mary's younger sister). Mary anticipates she will move into her sister's house once they are discharged from hospital. She lives not far from Mary in a 1 roomed house with her two children. She is a single mother.
James may never be the same vibrant playful boy again. He inhaled high levels of carbon monoxide and remained unconscious for close to 2 weeks. He may have suffered some irreparable brain damage- only time will tell. A study by the University of Nairobi (2012) concludes that burn injuries have a devastating economic and emotional toll on entire families, often resulting in loss of income and stigma as a result of disfigurement and disability. Data collected from 359 patients who were hospitalised with severe burn injuries shows that 46% were children below the age of 5 years. 76% of the patients' were from households that earned less than 2 USD per day. Almost three quarters (74%) of burns occurred at home. Most of the injured children were either alone or without supervision during the incident. This is the story of James, he was at home and unsupervised.
What are the needs?
Hospital Bill: Mary has been discharged from hospital and cannot be released until the bill is paid up- she remains detained in hospital. She has gone to see the social worker and explained her case. She needs to make some form of payment and may be released due to her unemployment status. One mother in the hospital ward with Mary has been detained in hospital over unpaid bills for the past 7 months;
Physiotherapy: James will need ongoing physiotherapy. He has made tremendous improvement in the last 10 days. He is stiff but there is some improvement. Those he recognises the gives a big wide happy smile. He will also require some specialised assessment to determine the level of impairment and some form of training for his mother how to care for him;
Shelter: Mary has no home. The land where her little shack stood belongs to the grandfather of James and so she pays no rent. She will need help to put up another semi-permanent house.
Household items: In the fire the family lost everything, they will need support to start again from household items to books, cloths, kitchen utensils, furniture etc.
Livelihood: Mary requires some form of support until she is back on her feet again. She may require to start a business she can run from home especially if her son will require full time care.
Education: Eboo beneficiary families need to be made aware of the National Hospital Insurance Fund (NHIF) services. The NHIF runs a social health insurance scheme at a cost of KES 500 per month (Eur 5) this fund is making hospital services affordable for Kenyans. It requires commitment to pay.
Noor: "That's my dream"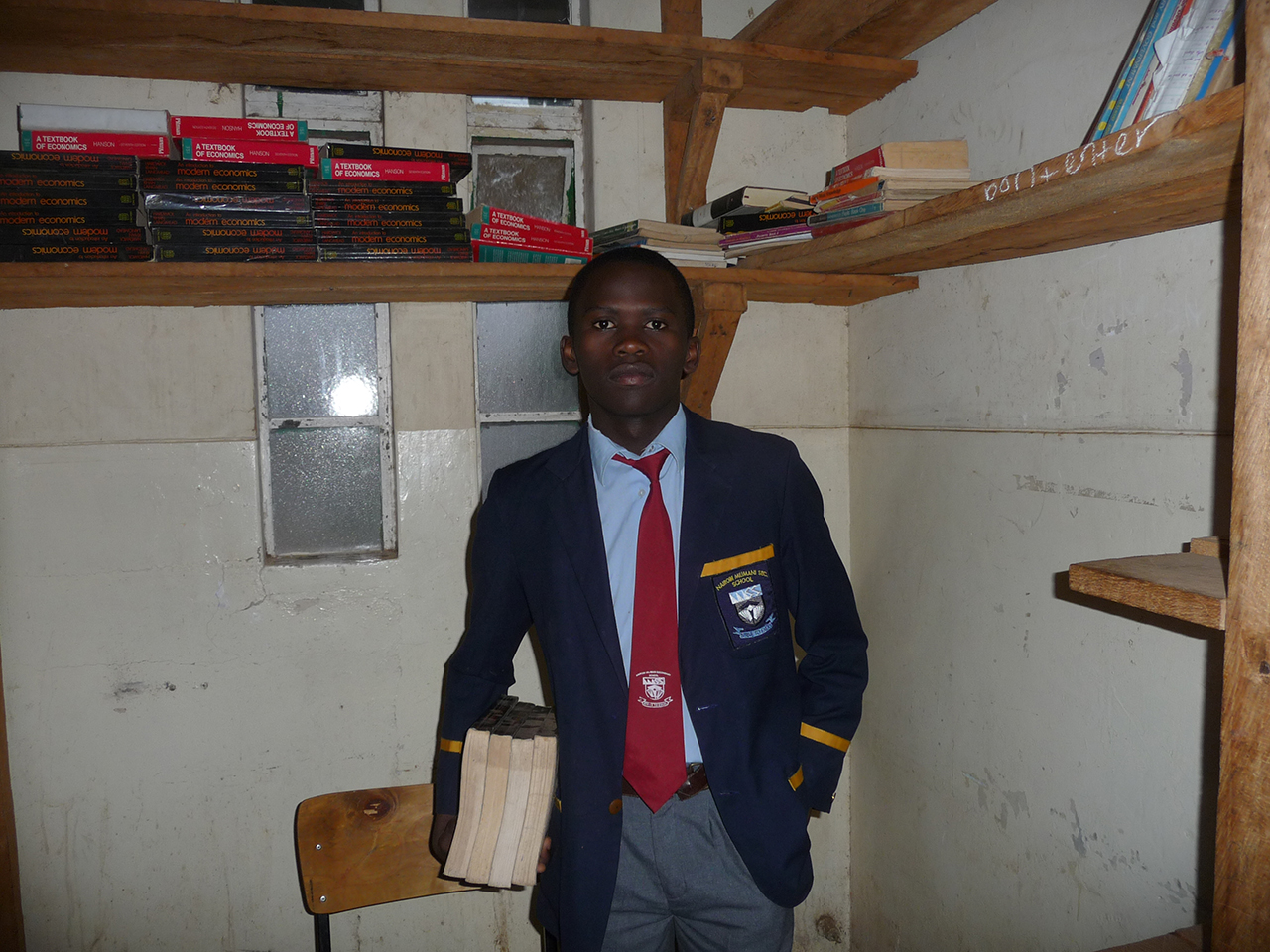 Today (07.11.2016) Noor starts his final national exams KCSE (Kenya Certificate of Secondary Education) click here. He is among 577,079 boys and girls in Kenya who have been registered to sit for the end of Secondary School exams. His first exam paper will be mathematics. The last paper will be written on 30th November 2016. Eboo in Kenya wishes Noor all the best as he sits his national exams!
Noor is 18 years old and his birthday was on 18th August 2016. He did nothing on his birthday. It was a quiet day for him. He says….my religion does not make a big deal out of birthdays. However he adds….. On turning 18, I felt free, a great sense of freedom – like a new beginning.
Noor was born in Kibera click here. It is the largest slum in Nairobi, and in Africa. The total population in Kibera is estimated to be close to 1 million people. Noor has been brought up by his mother, his father died when he was a baby. Noor has a mixed heritage, his father was half Tanzanian half Indian while his mother is a Nubian. Nubians originally came from Sudan click here and were settled in Kibera by the colonial government. He is the second born child in a family of 4. He has an older sister Mwatum who is a hairdresser. She is a former beneficiary of Eboo in Kenya and was supported to complete her 4 years of secondary school education. The other siblings are Shamim and Salim.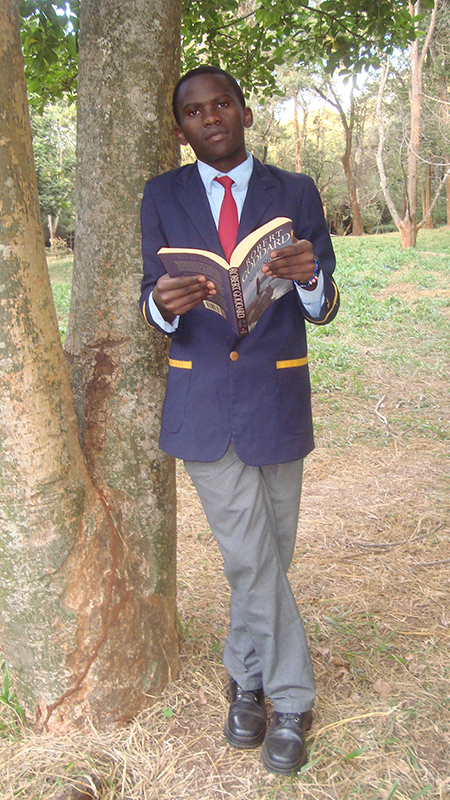 Noor is a student at Nairobi Milimani Secondary School. It is a day school. Noor loves school. He has a mixed bag of subjects he loves including Geography, Mathematics, Chemistry and Biology- these are his best subjects. He also likes Literature and currently they are reading is The River and the Source by Margaret A. Ogola click here. Noor is hard working and has been at the top of his class since when he joined in form 1. Depending on his performance in this national exam, he would like to pursue a career in the medical field either as a doctor or as a psychologist. Noor has set very high standards for himself. He wakes up every day at 3 a.m., has a cold shower and settles down to read after taking a cup of tea. At 6 p.m. he leaves the house, often it is still dark but he will not be alone on the road since many people from Kibera will be walking to work. Eboo in Kenya not only pays school fees and other school requirements such as school uniform, books, educational visits etc., but also pays for his transport to and from school. In the past he walked from home to school and back until Fenneke started to pay for his transport. Every week he gets KES 700/Euro 7 from Feneke via M-Pesa a mobile phone-based money transfer system run by Safaricom, one of the biggest phone network service providers. This comprises his matatu (public minivan) fare to and from school from Monday to Friday. At school he is respected by peers and teachers as he is the Head Boy- the senior most student, a prefect, a leader of the students. He represents the school and fellow students on all occasions. As the Head Boy he has no cleaning duties like the rest, he supervises the cleaning duties and is entitled to a small office which he uses as his private study room.
Noor does not remember the last time he had free or leisure time, he is reading all the time. My family is very supportive and they respect my reading times- at home everyone is quiet because Noor is reading….he says. No loud music no TV. He shares a bedroom with his older sister Mwatum; every day at 3 a.m. he puts on the light and sits down to read. She has learnt to sleep deeply with the light on. Noor says he is indebted to her because she does not complain about the light or his late night reading. When he is not reading he likes to play football and is an avid follower of Manchester United Football Club.
On his bucket list after the exams are done is to travel! travel! travel! Noor has never travelled out of Nairobi. He would like to visit other parts of Kenya and even go to the country of his father's origin – Tanzania and perhaps visit Uganda…..can't a young man dream… he says with a smile. Noor's motivation to work hard is so that he can live a better life. He says he has seen so many of his peers make mistakes, fall into wrong company and drop out of school. He has also seen young men and women work hard and move from Kibera- in fact move their entire family from Kibera- that is his dream. Noor is convinced that a university education will bring him better prospects. This dream is what wakes him wake up every day at 3 a.m.
Fenneke: "Noor is a great student, he is diligent and smart. He has always been number 1. He is quiet and I think he will achieve his dream. We recently found him a sponor so that he can realize his dreams.
Julie: "I would like to become a paediatric and a part time nursing instructor"
By Julie Kerubo
On the 5th December 2016, doctors working in public (government) hospitals in Kenya went on strike! The Kenya Medical Practitioners and Dentist Union, which represents doctors at public hospitals, says its members are demanding implementation of the collective bargaining agreement signed between the doctors and government in June 2013. The government had not upheld the agreement which covered several issues, including doctor's postgraduate studies, promotions, transfers and pay increment. The Ministry of Health was asked to hire at least 1,200 doctors yearly for four years to reduce Kenya's doctor to patient ratio. This currently stands at 1:17,000 patients and falls short of the WHO recommended ratio of 1:1000.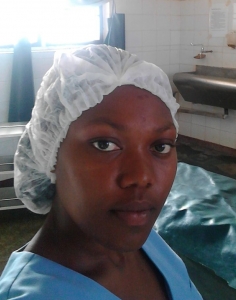 Meet Julie Kerubo, a 4th year student at the Jomo Kenyatta University of Agriculture and technology (JKUAT) doing her BSc (Nursing). She narrates how her dreams of becoming a Medic since her childhood are almost becoming a reality. She says….
"I am the first born in our family of two. I have had a chance of living in Nairobi and in our rural home in Kisii. Life in the city and in the rural area is very different and cannot be compared (not education wise or health wise). When I was about 12 years old, my mother fell ill and I was relocated upcountry. I lived in Kisii for two years under the care of my beloved aunt Ruth. I was enrolled in a local school Rangeti Primary School and here I sat for the Kenya Certificate of Primary Education (KCPE). My scores were excellent, 374 marks (out of 500) from a rural school was a great achievement. I was enrolled at Mitamboni Secondary School. Here the school system was arts and would not lead me a career in the medical field but I had no option but to abide by the school regulations. My aunt Ruth who was paying my school fees experienced hard times and was unable to pay my fees and that of her own children. I was therefore in and out of school most of the time. As I was starting my third year in secondary school, my aunt Ruth sent me back to my mother; she had regained her health and doing some odd jobs to sustain her and my younger sister. I started praying as only a miracle would open the door for me to continue with my studies. An uncle offered to contribute part of my school fees and my mum paid the other half. This was a great relief to me. They enrolled me in a school in Nairobi where I joined in form three (Hospital Hill High School). Finally things were falling into place! In my new school teachers actually came to class and taught real education; the school had well equipped laboratories and a well-stocked library (like Eboo's). My joy was short lived, three months later, my uncle was taken ill and he died. What a frustrating moment for me and my mum! At his funeral in Kisii, one of my mother's cousins living in Kibera told her about Mama Mzungu (white woman). We got back to Nairobi, we applied and Eboo Kenya accepted my sister and I. So I got another chance to continue with my education and join the medical field. I have several reasons why I choose this career;
• I witnessed people in my village die from simple ailments due to mismanagement by medical staff;
• I watched my own mother mishandled when she was sick;
• I saw my uncle die from a treatable illness;
• I watched my grandmother suffer for years from a neural disease and with no help.
After taking my Kenya Certificate of Secondary Education (KCSE) national exam and graduating with a B, I joined Jomo Kenyatta University this was made possible with the support of Eboo in Kenya."
I would like to go on and complete my masters' degree as well and become a paediatric and a part time nursing instructor.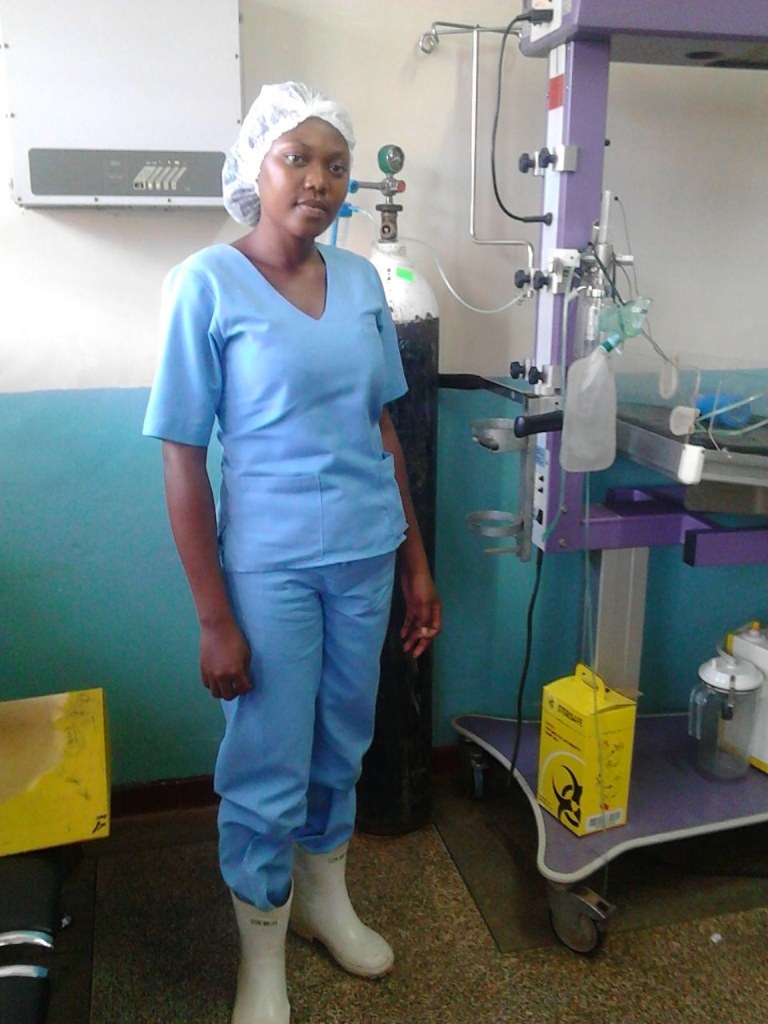 keep her grades up. For this reason she is not on Facebook and she is not active on WhatsApp either "I have to remain focused; I have good classmates with whom we study together and when we must really have fun, we listen to music", then she adds rather softly…"I like gospel music".
Julie remembers her first clinical rotation; this is where they go to a hospital for practical training for a whole semester to apply what they have learnt in class. She was posted to Gatundu Level 4 Hospital District Hospital (40km from Nairobi City). Her first impression was there was too much blood. "After a while you just get used to it…" says Julie. One evening she remembers while on night duty, most of the staff did not report on duty for one reason or another. They were a small team and it was a busy evening and she was forced to attend to a mother delivering twins, she managed perfectly. The nurse in charge told her to be on the look and report immediately there are any complications. There were no complications and the delivery was successful. Julie has done everything from nursing patients with surgical wounds, to a 3 year old with 7% burns who had a successful healing". This little boy had been playing near the fire at home and accidently knocked a pot of boiling water that was on the stove.
"My most heart breaking moment was taking care of a lady who had cancer. I made her bed daily for the two weeks she was in hospital; I bathed her and even changed her cloths. Finally one morning she suffered a heart attack and died. It was heart breaking for me, and because I was attending to her; I was asked to speak to the family when they came in at midday visit her. Breaking the sad news to family that their loved one had died is heart breaking says Julie". The best thing in a hospital says Julie with a smile, is when a patient recovers and comes back to hospital to say thank you to the nurse who was nursing him/her. "If I had a choice, I would work in a children's hospital that – is my desire".
As I wrote in one of my letters to Eboo Kenya when I asked for support (……I have always desired to be a Doctor or a Neural Surgeon…..I am always praying to God that someday I'll be a Doctor and put a smile on someone's face…) when I look at my grandmother at 83 years having a nerves problem it pains me because it's very expensive treating her and no doctor is offering free treatment. In my heart I owe my grandmother free treatment and to many others who cannot afford good medical care. In future God willing, I'll open a foundation for the elderly people to cater for their Geriatric diseases for free."
A day in the hospital looks like this…says Julie
We receive the night report from the night duty staff for continuing care. The first task in the morning is dispensing medication. We then form teams and accompany the doctor for ward rounds; we visit every patient, go through the diagnosis and review how the patient is responding. It is in the ward rounds accompanying the doctors that I learn my most treasured lessons. Thereafter we write reports and work on any assignments that the doctors recommend. Most staff are good, they want us to learn, they give us quizzes, they advise us, direct, and guide. I have also experienced nurses who are rude and mishandle patients. On the other hand, we come to clinical rotation with junior students and we have to show them the proper working procedures. All in all my experiences have been satisfying…. my motto is there is nothing impossible, never give up, and stick to the fight when hardest hit.
To Eboo, "I say thank you for where you have placed me in life, I am grateful I have a chance to pursue my dream. I hope the Eboo team will see the fruits of the great work they have done once I graduate". "Together we can! Yes we can!"